June 13, 2018

8:00 am

to

9:30 am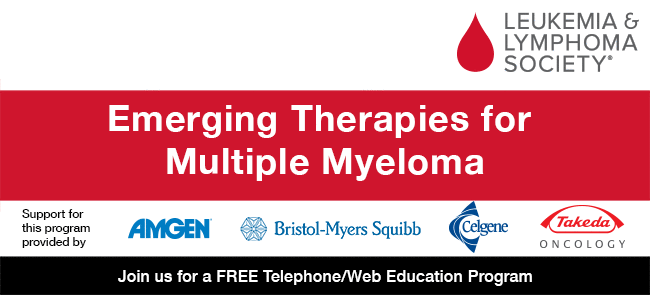 The latest information for patients and caregivers.

DATE
Wednesday, June 13, 2018

TIME
11:00 AM to 12:30 PM Eastern Time
10:00 AM to 11:30 AM Central Time
  9:00 AM to 10:30 AM Mountain Time
  8:00 AM to 9:30 AM Pacific Time
SPEAKER
Larry D. Anderson, Jr, MD, PhD
Associate Professor of Internal Medicine
Director of Myeloma, Waldenström's, and Amyloidosis Program
Attending, Hematologic Malignancies/Blood and Marrow
Transplantation Program
UT Southwestern Medical Center
Dallas, TX
WE INVITE YOU TO LEARN MORE ABOUT:
      •  Treatment advances for multiple myeloma
      •  Side-effects management
      •  Long-term and late effects of treatment
      •  The importance of shared decision making when discussing treatment
To register by phone, please call (855) 676-7723, or click here to register online.
Healthcare professionals are invited to participate.
Assistance for people with disabilities, grievances, questions or for more information on patient education programs, please call our Information Specialists toll-free at (800) 955-4572.
 
Click here to unsubscribe.
Click here to update your email preferences.
Click here to go paperless.
Address